-------------------------------------------------------------------------------------------------------------------------------------------------------------------------------------------------------------------------------------------
The following article appeared in the 2017, Number 5/6, edition of the "Grondboor & Hamer",
the magazine of the "Nederlandse Geologische Vereniging" (Dutch Geological Society).
Interview by Sophie and Henk Duyverman.
Eight moody cave bears


Fossil trade, from passion to commerce

The beginning

The beginning of my fossil career lies in Bergen aan Zee, the Netherlands, where I met my Swiss wife Christine in 1970. I was 22 years old and had just finished my civil engineering studies. Shortly afterwards I followed Christine to Switzerland, where I could get a job in Basel in the tunnel construction. It was then that I first came into contact with fossils. I noticed that the Jurassic lime banks that we dug out contained fossils. After work I started to search and collect fossils in all new city tunnels that were constructed at the time in and around Basel for the A2 motorway. By chance I soon came into contact with a famous fossil expert from Bern. As a fossil collector I was willing to read all the books on paleontology and geology available in the library. And the named expert was willing to give me practical lessons in the field. In the next five years I gained a lot of knowledge as a self-educated man, and every weekend the strict teacher taught me practical lessons in the field. He also learned me how to use geological maps, like the one from the Pliocene, the so-called 'Süßwassermolasse', the Upper Cretaceous, all Jurassic levels, and the Triassic of the Monte San Giorgio. He also made me become familiar with the guide fossils that are characteristic for every geological layer. From this teacher I learned a lot.

In 1974 I returned to the Netherlands with Christine. Besides my work as a calculator in the construction sector I was intensively searching for fossils. From the Upper Cretaceous of Cadier en Keer in the Netherlands to the Jurassic in Germany, Switzerland and France. Because my collection grew rapidly, I placed it under the 'Ammonietenstichting' (Ammonite Foundation) in 1978. In the same year I learned that the old school museum in The Hague was going to build a new accommodation, the current Museon. Everything was temporarily stored in the town hall in The Hague. There I came into contact with Cor Montagne of the Geology department. I noticed that a lot of fossils were labelled incorrectly. The director then gave me 10 guilders per hour to determine all fossils, according to him about 19,000 of them. But it turned out to be 96,000 pieces! I finished the job in four months. 25 Years later everything was digitalized and again determined by an employee of the Museon. He only found a few errors.

In 1978 I set up the geological society 'GEO' together with a few other collectors. It still exists today and has a lot of young members. My passion for fossils made me decide to say goodbye to the construction business, and make a living from my company Henskens Fossils, which at the time was not always easy for my young family.


Expansion in America and Africa





I often visited Arizona in the US, and slowly became part of an international group of paleontologists and geologists. Five years in a row I sold fossils at the mineral and fossil show in Tucson, the biggest one in the world. I brought mammoth teeth and bones from the Netherlands, which I bought from North Sea fishermen. In the US I participated in dino expeditions, all on private land of course, because on federal land you are not allowed to dig. For the preparation I worked a lot with the Swiss Ben Pabst, one of the best dino paleontologists. In 1986 I sold an American mosasaur to the Dutch national history museum Naturalis. More and more I became the middle-man who gave tips and ensured that top pieces came to the Netherlands, like an Edmontosaurus, Camarasaurus, Allosaurus, Pterodactylus, a prehistoric horse, etc. Sometimes I bought the fossils when they were still partly located in the rocks, like in Montana in the Blackfeet Indian Reservation, and in Frick, Switzerland. This was all before the age of computers. I had geological maps, and if I saw the dino bones in a certain layer, I made a kind of blueprint of them in the field. The risks of the excavation were for me and for potential partners.

The most spectacular searches I had were in Africa, especially in Niger. I was there three years in a row, from 1985 till 1987, and worked together with a Dutch university and museum, because without such partners we could not even begin such a project. We had topographical and satellite charts, and the books and publications from P. Taquet and F. de Broin (1966 till 1983). We also had a permit, acquired from the consul honoraire des Pays Bas, Mr Schmidt Degener. That was a very clever guy, who was married to a Touareg princess. He advised me to search 1600 km from Niamey. So we drove three, four days in a Landrover across the desert to Agadez. There we met a Touareg, dressed in white, who knew every rock in the area. He took us to a place even further up north, where David Attenborough was filling his two British Landrovers with dinosaur bones. He drove back via Algeria, where no questions were asked. We were honest, and asked a permit for everything, which led to a lot of paperwork… and took us three years in the end.

Niger landrover


The Musée National in Niamey happened to have half a sauropod, lying in the sand, and we wanted to add another one lying or standing next to it. But as compensation we wanted to get back a sauropod (Titanosaurus) that we had dug up ourselves. So we drove back to that area, where in a few years the desert had advanced 200 km due to desertification. There were also hydrologists present, who had found a giant lake under the sand. So they set up a water pump. But then a tribal chief of the Hausa people came to loosen all the bolts of that pump. Why? Because the women, who were used to walk 20 km per day to get water, had nothing more to do. The men just sat there and the women had to continue working, like they had been doing for the past 100 years!

At a certain moment we reached a big fossil site. I thought all those bones belonged to camels, but because of the sand erosion all bones there are white/brown, and it turned out to be all dino bones! I then took only one small tail vertebra of a raptor, because the customs officers there were very strict and corrupt. They found the vertebra, and although I told them it was from a camel, I had to pay 10,000 Central African Francs. After that I never returned, because the Touaregs started a war with the Hausa, which caused a lot of deaths. This nomadic tribe has now discovered a new trade by smuggling people to the coast of Libya.

I know now that there are big dino bone fields in the west of Niger, close to Mali. It is a long strip of Cretaceous (Albien) deposits from Mali to Chad, an old estuary, which contains countless numbers of dino bones and other fossils. East of Agadez lies a nature reserve, that we respected. Because of the moving dunes, fossil-containing strips are often being exposed. But I am not going there again, it is too dangerous. Even for a dino I'm not getting killed or kidnapped!

Searching for fossils is hard work

Afterwards I also searched north of the Sahara. The potassium mines in the Spanish Sahara, south of Morocco, contain a lot of nice fossils from the Paleocene and Maastrichtian. In the border regions of Morocco, Algeria and Tunisia you can find the Kem Kem Beds, a 2000 km strip along the northern side of an old estuary. It also contains a lot of dinosaur fossils, on the border of the foothills of the mountains and the Sahara. But in the last 10 years it has become more and more politically unstable in this area. Without a local guide it is unfortunately not possible anymore to search safely in this beautiful region, which contains deposits from the Cambrian to the Lower Cretaceous.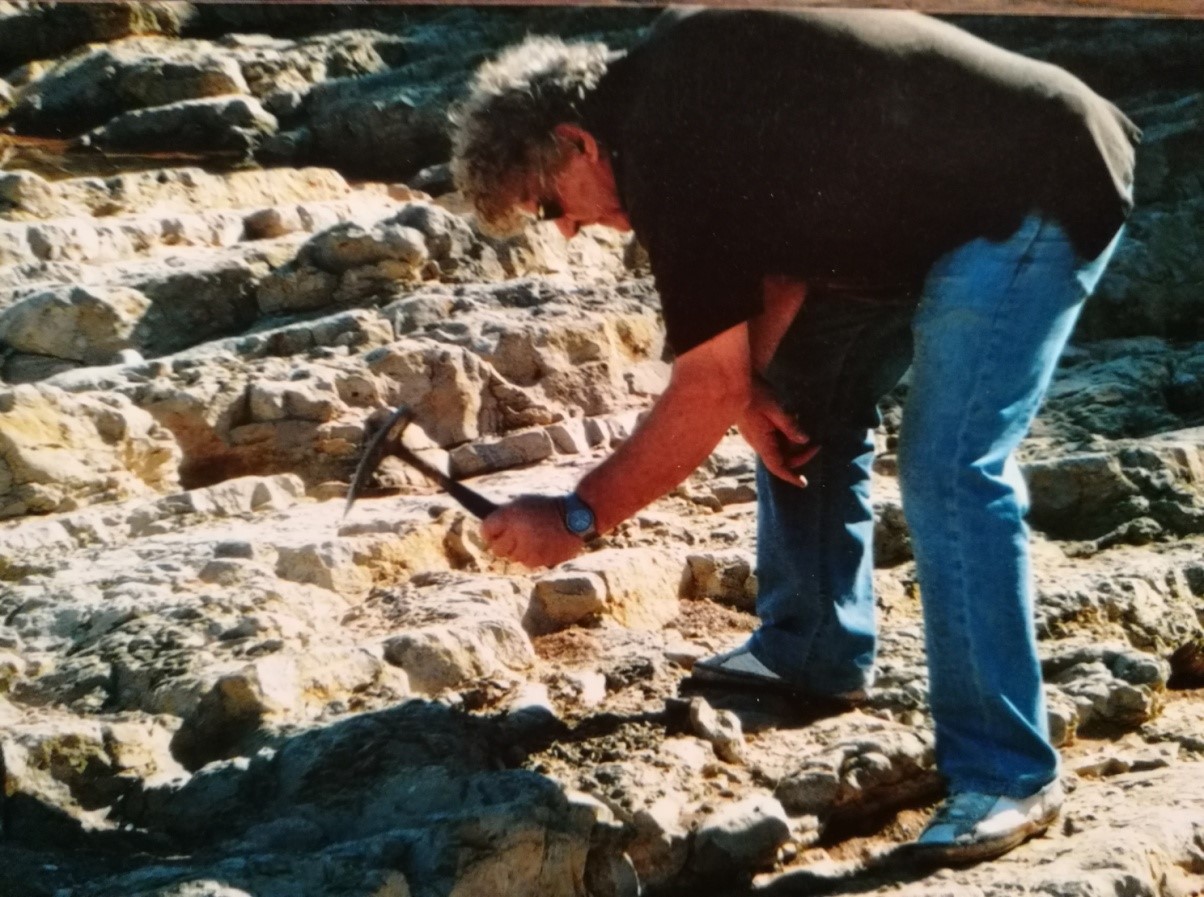 Prospecting Devonian/Frasnian fossils in the Tafraoute mountains




Dinomania

In 1984, in cooperation with LEGO Denmark, I presented my first small dino show in a big department store in Rotterdam and Eindhoven. With LEGO blocks the kids could build dinosaurs. It was very popular, especially the boys loved it. What the Barbie doll was for girls, the dinosaurs were for boys. At the same time I was extending the collections of a zoo and of several international museums, including the Dutch national natural history museum Naturalis. Because I saw what they had in their collections, or rather what they did not have, as a fossil dealer I was able to fill up the gaps in the geological periods. In 1991 I had my first big dino show in Naturalis, called Dinamation. I had moving dinosaurs which I brought from the US to the Netherlands. The Americans had stolen the motor technique from the Japanese, who had not patented it. This show was a breakthrough for me, especially financially. They asked me if I could guarantee 100,000 visitors. I said I could, and they had 365,000 visitors! Naturalis is still partly running on the concept I had in 1991.

A lot of other dino shows followed in which I participated. In 1993 I came into contact with the people preparing the Jurassic Park I and II movies. I had already reserved the attributes that were used for the movies by Universal Pictures for a new dino show in the Netherlands. For a chain of holiday resorts I came up with the idea of sandboxes in which the kids could search for fossils and minerals. They all do that now, although I 'invented' this already in 1995. It is all being imitated because you cannot patent it.

In the meantime searching for fossils in Europe became more and more restricted. New legislation made collecting fossils strictly regulated. For me it was a blessing that I could start a homepage on the Internet in 1996. Nowadays I buy old fossil collections in Europe. Unfortunately I also don't have the time anymore to go out into the field myself. In the past I also often gave tips to museums and institutions about important fossils that were for sale. Naturalis, the Dutch national natural history museum, unfortunately made a show of it in the last couple of years. The T-rex they acquired a few years ago is a good example. The geological sciences department has been downsized to a minimum, while in my view it should be the cornerstone of each natural history museum. Nowadays my sales are more directed at international museums, both in Europe and on the other side of the globe.


The workshop and showroom

The showroom contains some antique display cabinets and pharmacist's cupboards, with drawers full of small fossils, mainly ammonites, fish, shark teeth etc. A lot still needs to be photographed, that still has not been done. I also have a big trilobite collection from England, and I have more fossils in the workshop because I don't have enough space in the showroom. Most of the fossils need to be coated, otherwise they will fall apart, but this mainly applies to the Pleistocene fossils. A lot of pieces already have to be glued together in the field. Fossils found in rivers don't have this problem, as they don't contain any salt. That's why I'm not so attracted anymore to fossils from the North Sea.

I can have as many fossils as I want, I always come across something new. Do you know what it is? They expect me to know everything, but that is impossible. It is already something when I know from which tree a certain fossil leaf comes. It is kind of 'die Unvollendete'. But if you ask me: how many fossils are found and how many still remain to be found, then I think only a few percent has been found. If you are digging in a certain layer on one side of a mountain and you stop after 10 m because it becomes too dangerous, then you go to the other side of the mountain and you dig 10 m deep again in the same layer. But then you know that that layer continues for miles and miles, and that you cannot reach it. Then there are thousands of fossils in that unreachable part. And if you include all the fossil-containing deposits on the different continents in the calculation, then you quickly come to billions of fossils.


The future

At the moment my business is worldwide, especially with Japan and China. There they still respect the old generation. Now and then I search for fossils for a week or so with my fossil friends, and feel blessed when I can still walk around in the field. I'm already 69 and we have three grandchildren who also want to see grandpa once in a while. I'm not driving 70,000 km a year anymore or sit in plane for hours and hours like I used to do. Luckily there are a few interested and passionate young people who visit me regularly and join me on fossil trips. So yes, I can still do my work in Oss for years and years to come and pass along my knowledge.

Now ENJOY!!!!!!! our fossil lists on the Home Page.